Carving Inspiration
Our new website, www.susantereba.com, was launched in early January just before the start of our Tucson Shows. In the whirlwind of show preparations and actually doing the shows, there was no time to write.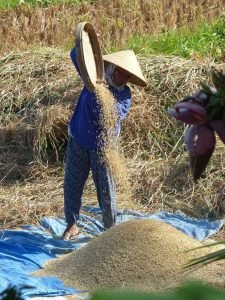 Finally back in Bali, I'm writing to you on my veranda, overlooking the rice paddy harvest in full swing. When I left three and a half months ago, the paddies were flooded, reflecting the stormy monsoon sky. Soon they will be flooded again reflecting another cycle of Bali life.
Like the fully matured paddies, I'm bursting with carving inspiration for new styles in our mammoth tusk, jet, painted bone, exotic wood, and stone carvings. Based on requests from customers at the shows, I've started drawings of ostriches, sunflowers, bunnies, pandas, baby hippos, new Ganesha designs, and even a Quetzal bird.  I can imagine a pair of iridescent green birds with long tail feathers curving around to meet among the jungle foliage. Will these be earrings, a pendent, or both? And do you have any requests for images you'd like to see carved?
Custom Carving
I also came back with custom orders to produce for other designers. This is our specialty –  manifesting other's carving inspiration in high quality three dimensional pieces.  I love the challenge of interacting with a client to be clear what is desired and then to actually send the specifications off to the carvers and wait for the raw materials to return, transformed, almost alive in three dimensions.
I'm very excited by one designer's pieces that are mammoth tusk inlaid with jet. I wish I could show you some examples, but we pride ourselves in keeping every designer's work private and their designs just for them.
Christmas in April
Coming home after three months away is like Christmas, when new works set in motion before I left, are now each in a zip bag in a basket waiting for me to open them.  Most pieces have that special 'ooooh' quality that makes my work so satisfying. This is where carving inspiration becomes carving manifestation. A few might need tweaking to make them just right, but I love the whole process.
I'm so grateful for my team who work tirelessly to keep Susan Tereba: World on a String in motion when I'm here and while I'm away.
All the best,
Susan